In Memory of a dear friend
Paul A. "Pat" Thomas
December 10, 1922 - June 16, 2005


Obituary from Ironwood Daily Globe...

Published Monday, June 20, 2005 1:34:37 PM Central Time

IRONWOOD TOWNSHIP -- Paul A. "Pat" Thomas, 82, of N15521 Black River Road, Ironwood Township, died unexpectedly Thursday afternoon, June 16, 2005, in his home.

He was born Dec. 10, 1922, in Chicago, son of the late Percy and Elizabeth (Swanstrom) Thomas, attended Central Grade School in Ironwood, and graduated from Luther L. Wright High School in 1940.

Pat then served in the U.S. Marine Corps during World War II in the South and Central Pacific Theaters of Operation and in the defense of Midway Island. He was honorably discharged as a private on Oct. 17, 1945.

Following his discharge, he worked as a mechanic at the Nash Agency in Ironwood, owned and operated Pure Oil Co. on Cloverland Drive for several years, and was employed as caretaker at Black River Harbor for several years, retiring in 1967. He was an avid hunter and fisherman, and enjoyed gardening and his home.

He was united in marriage to the former Virginia M. Golden on Jan. 25, 1946, in Ironwood. She survives.

Also surviving are a daughter, Cheryl (Dave) Zarimba, of Ironwood; three grandchildren, Lynn Coleman, Oshkosh, Wis., Kevin (Andy) Coleman, Raleigh, N.C., and Jenny (Brian) Goodman, Detroit; one great-grandson, Michael Goodman; two brothers, Theodore (Edith), Cypress, Calif., and Eugene (Florence), North Carolina; and a sister, Nancy Jorgenson, Peshtigo, Wis.

Besides his parents, Pat was preceded in death by a brother, William, and a sister, Ruth Thomas.

At Pat's request, there will be no services.

Interment will be private.

McKevitt-Patrick Funeral Home Inc., Ironwood, assisted the family with the arrangements.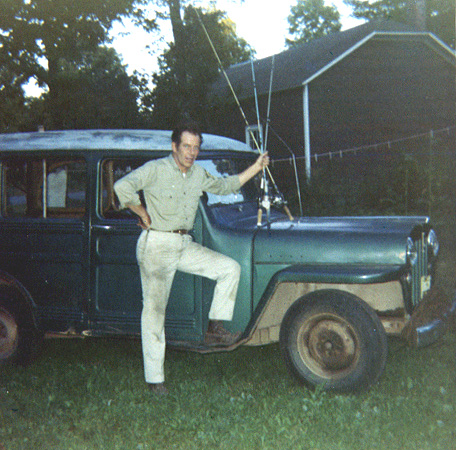 Memories of Pat by Bill Zivic...

A dear friend, Pat Thomas recently passed away and brought back fond memories of our adventures together.

I first met Pat and his wife Virginia in 1948 in Ironwood, Michigan. Pat and I were very much into hunting and fishing and became good friends. I could write volumes about my exploits with this fine man. An ex-Marine, fear was not in him and his abilities as a hunter are legendary.

In the forests of Upper Michigan, we experienced more contacts with wild animals than most people only dream of. Pat was the kind of person that could go into any wilderness and live off the land. One hundred years ago, he would have been a mountain man or scout. There wasn't anything he couldn't or wouldn't do when it came to living in a forest. I learned more from him than any other person in my life.

I once saw him retrieve a shot goose by breaking ice and wading chest deep in freezing water. He never wasted wild game and we ate everything including skunks and porcupines.

He was a philosopher and storyteller with a good sense of humor and I shall miss him very much.

Goodbye old friend, and may the trail in heaven be as great as the one we traveled together years ago.

Bill Zivic
June 2005

You shall be missed....

Back to ZivicStudio.com